No, this is not some ref­er­ence to hid­den lyrics in a Bea­t­les song.
Nor is it a euphemism for some­thing rude.
This is a sto­ry that I have told often, but only to the select few, giv­en its unusu­al and grue­some nature.
Dur­ing a recent "Emo­tion­al Intel­li­gence" train­ing course, we were asked to con­vey a sto­ry to the per­son sit­ting next to us and they were to "tick off" all the var­i­ous "emo­tions" that they heard whilst "deeply" lis­ten­ing to the story.
I should point out that when dis­cussing any kind of self-help train­ing, it is essen­tial to use a lot of "quote marks".
Any­way, think­ing of a sto­ry that one could tell in under 3 min­utes, that was fit for pub­lic con­sump­tion and that involved an emo­tion or two was no easy feat.
I first­ly chose The Black and White Ball story.
Sad­ly, in my haste to deliv­er the sto­ry, plus the fact that I had only just met the per­son sit­ting next to me, and also that it was gen­er­al­ly not per­fect con­di­tions for spin­ning a yarn – I told the sto­ry in the most monot­o­ne and rushed man­ner pos­si­ble. It could have passed for my best Stephen Hawk­ing imper­son­ation ever.
I told it so poor­ly that the receiv­er of the sto­ry could not find an ounce of emo­tion. In fact, I had to point out that the sto­ry did con­tain many emo­tions includ­ing lust, fear, dis­may, long­ing, relief and con­tent­ment – they we just real­ly well hidden.
So we agreed to move on and I instead talked about wit­ness­ing child birth and the asso­ci­at­ed roller­coast­er of emo­tions – keep­ing it as fit for pub­lic con­sump­tion as pos­si­ble, espe­cial­ly giv­en that we had all just eat­en morn­ing tea.
The sto­ry that I want­ed to tell, was that of Ned­dy the Pony.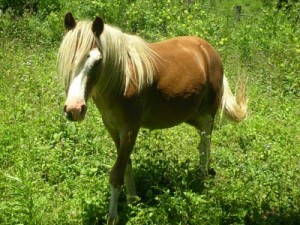 When I first moved to Can­ber­ra in the ear­ly 90s, I lived with my sis­ter on their farm out beyond Bungendore.
In typ­i­cal hob­by farm fash­ion, they pur­chased a pony for their young daugh­ters to enjoy. Ned­dy was as cute as a but­ton and bore a strik­ing resem­blance to the My Lit­tle Pony toy. He was just that delight­ful and brought great joy to the entire family.
Sad­ly how­ev­er, the prop­er­ty was also inhab­it­ed by the fear­ful Com­mon Tiger Snake, one of which brought the life of Ned­dy to an untime­ly end. This was upset­ting stuff for all and sundry.
From the sad­ness came the inevitable and prac­ti­cal dis­cus­sions on what to do with poor lit­tle Neddy's remains. Obvi­ous­ly the longer he was left in the summer's heat, the more dif­fi­cult the task. I remem­ber think­ing that what­ev­er the deci­sion, you can count me out.
The next day it was decid­ed to bury him. I remem­ber look­ing out the win­dow at my broth­er-in-law as he walked off towards Ned­dy with his shoul­ders hunched and shov­el in hand and flies all over his back.
It was at that point I realised I had to put all my pony bury­ing prej­u­dices aside and help.
An inter­est­ing fact about bury­ing a pony is that the hole required, is incred­i­bly huge. A pony itself is quite volu­mi­nous, and so the hole must be much larger.
With­out paint­ing the pic­ture in too much detail, dig­ging a huge hole next to a dead pony was a dif­fi­cult task in a dif­fi­cult envi­ron­ment and we felt great relief once the hole had been dug.
How­ev­er, some­thing incred­i­bly strange and unex­pect­ed yet mor­bid­ly fun­ny happened.
As we heaved Ned­dy into the hole hoof first: He basi­cal­ly stood up.
He just stood there, in the hole.
No, he had not risen from the dead. Due to the won­ders of "rig­or mor­tis", his legs were stiff and he stood com­plete­ly upright in his new­ly dug grave.
My broth­er-in-law and I often reflect deeply about this moment when recant­i­ng this sto­ry. Because we know we both had the same expres­sions of bewil­der­ment on our faces, and we know we were both think­ing the same thing – "What the hell do we do now?"
Luck­i­ly, after pos­si­bly only a few sec­onds, Ned­dy start­ing sink­ing down into his grave and we were able to fill in the dirt and put him to rest.
The job was done and we wan­dered back to the house.
For years after that, I looked upon this moment as a morose achieve­ment that not many peo­ple could match.
So you ran a marathon? Well, I buried a pony.
You cooked for thir­ty peo­ple? Well, I buried a pony.
You can put your ankles behind your neck? Impressive.
I buried a pony.