The most fun one could ever have for 5 bucks** would have to be Garage­Band for the iPad.
If you ever want to con­vince any­one that they should buy an iPad, show them this. Show them how you can com­pose a song from scratch, that actu­al­ly sounds half decent in less than half an hour. Show them how they can sing into the iPad, and with some mag­i­cal spe­cial effects they may not sound half bad. Show them that with the "smart" instru­ments, the songs almost write themselves.
Speak­ing of songs that write them­selves, I went one fur­ther and took the next step — I pub­lished my songs for all the world to hear. In fact, my songs are up for sale on iTunes.
My first sin­gle "Bro­ken Seams" breaks all records (par­don the pun), in that it lit­er­al­ly took me min­utes to put togeth­er and it goes for the mind bend­ing length of a minute and a half. It con­tains cheesy, made up on the spot 80s lyrics and even suf­fers from some pro­duc­tion issues (such as peo­ple talk­ing in the back­ground whilst the record­ing takes place).
"Dinosaurs" is actu­al­ly a song I wrote when I was a kid after learn­ing the very big word "rep­u­ta­tion", whilst obvi­ous­ly not actu­al­ly grasp­ing the mean­ing (lis­ten to the lyrics). And giv­en that I have just released the sin­gle to the world, I pos­si­bly still don't grasp the mean­ing of the word.
With "My Name is Mr Robot", I have to admit an ear­ly influ­ence by Kraftwerk (The Man Machine blew my pre-teen mind and my sis­ter's stereo speak­ers). Also inspired by Pink Floyd, Daft Punk and The Chem­i­cal Broth­ers… as if you could­n't tell!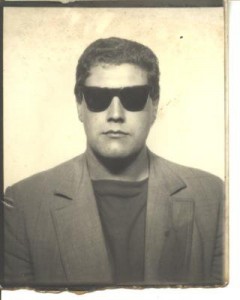 The label "Fon­da­cash Records" is a homage to my broth­er who went under the name of Jim­my Fon­da­cash when he man­aged alter­na­tive punk bank The Non­cha­lants in the musi­cal­ly tur­bu­lent 1980s Newcastle.
Watch this space for more hits being plucked straight from the Air (or iPad) by Bill(y) Bovill.
But until then, why not splurge on over to iTunes and pur­chase a copy of the songs for your­self, while stocks last. All pro­ceeds go to my chil­dren's edu­ca­tion fund, probably.
And one more thing… keep your ears and eyes open for anoth­er new artist who is cur­rent­ly record­ing a mov­ing trib­ute to the his­toric town of Jugiong.
**
Of course the five bucks does not include the cost of the iPad