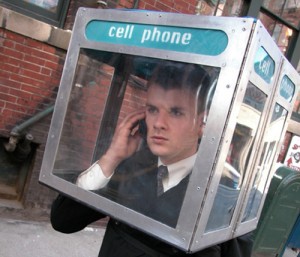 Back in the day, mobile phones had one ring­tone: they beeped.
You could change the vol­ume, and on fanci­er mod­els, the pitch. Back then, if a mobile phone rang, every­one got their phones out think­ing it was theirs ring­ing.
Then along came ring­tones. You could get your favourite song, albeit a beep beep ver­sion, to dis­tin­guish your phone from every­one else's.
Then along came poly­phon­ic ring­tones. Not only could you get a ring­tone that was dif­fer­ent, you could almost dance to it ("Freestyler" was very pop­u­lar).
Every­one was an indi­vid­ual, and for a time it was good.
The next big thing was "real tones" and mp3 tones. These were actu­al dig­i­tal­ly sam­pled sound bytes from your favourite song or noise. There was no look­ing back now. Not only could you get your favourite song from your favourite singing frog, but you could get a bark­ing dog, an ambu­lance, a v8 engine, a scream­ing orgasm or any­thing you could pos­si­bly think of.
Free­dom of choice was here to stay. Or was it?
Sud­den­ly, just like the day you went to school and every­one some­how knew that Yo-Yos were the new Rubik's Cube, every­thing changed. Sud­den­ly, the only accept­able ring­tone on a mobile is the ring­ing bell of an old fash­ioned tele­phone. Any­thing else is a social faux par.
Now, once again, if you hear a ring, every­one gets out their phones, think­ing it is their own mobile ring­ing.
The great cir­cle of life con­tin­ues.
(note: US read­ers should sub­sti­tute the word "mobile" with "cell")