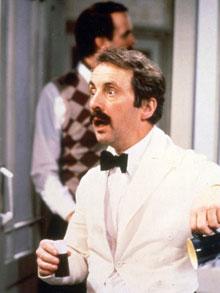 Here are my top ten most non-pre­ten­tious tips for vis­i­tors to Barcelona:
1. Bring your sunglasses.
2. There is more graf­fi­ti than Copeland Col­lege and Wat­son Shops combined.
3. Once you're on the dou­ble-deck­er Barcelona Hop-on Hop-Off Tour Bus, nev­er, ever hop off. The odds of hop­ping back on are insur­mount­able and haz­ardous to your men­tal health. Also notice the bright­ly coloured ear­phones thrown into every tree and rooftop along the route.
4. Take the cable car up Mon­tjuic for stun­ning 360 degree views that would make any respectable pole dancer feel dizzy.
5. Look both ways a hun­dred times before cross­ing any roads.
6. Con­trary to pop­u­lar opin­ion, the rain falls in the cities too (refer "My Fair Lady" for fur­ther information).
7. You are not real­ly in Latin Amer­i­ca, it just sounds like it (ask John McCain or Dan Quayle).