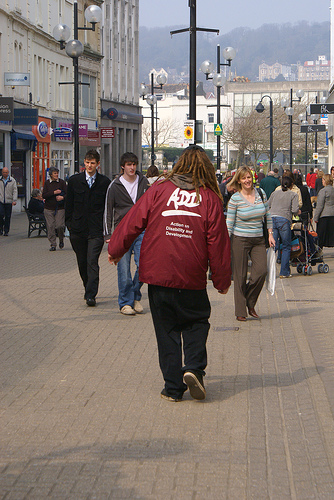 As much as I love char­i­ty organ­i­sa­tions, I have issues with the sales peo­ple in the streets dur­ing any giv­en lunch break.
And I'm not talk­ing about The Big Issue (the mag­a­zine, not the issue) which has a much more pas­sive sales approach and agree­able com­mis­sion basis.
I am talk­ing about the oth­er bevy of peo­ple who just want a moment of your time.
It's the lit­tle dance rou­tines that they do as you approach them.
The lit­tle hop, the lit­tle skip, the lit­tle wig­gle and the twist fol­lowed by the point. It's also the fact that it often takes many smiles and apolo­gies to con­vince them you just aren't inter­est­ed right now.
It's also the fact that they look deeply offend­ed when you say "Sor­ry, I am late for an appoint­ment" – whether that's true or not is anoth­er story.
It's also the fact that they…
No wait. For­get all that.
It's pure­ly those lit­tle dance routines.