Hap­py New Year.
Let me begin by say­ing to any­one like me whom have always drib­bled their hol­i­days away in small chunks — there is some­thing to be said by hav­ing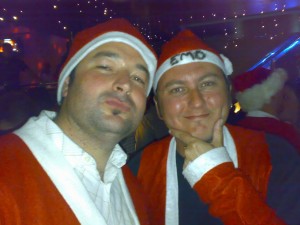 a long one (as the actress said to the bishop).
I had a six week break in which I pret­ty much did nuffin'.
And by nuf­fin' I mean I had a very loose agen­da which includ­ed New­cas­tle, Syd­ney, South Coast, Rob­bie Williams, The San­ta Pub Crawl, but noth­ing too con­crete. I actu­al­ly won­dered if I might get bored.
Here is what I did­n't expect: Huge nights, qui­et nights, a sun tan, boat rides, lots of sleep, a lack of sleep, new friends, old friends, new love (a per­son­al favourite), comet tales, edu­ca­tion, stim­u­la­tion and mas­sive per­son­al growth (which I real­ly should see the doc­tor about)… plus I wish I had shares in the petro­le­um indus­try con­sid­er­ing the amount of dol­lars I spent on fuel alone.
Any­hoo, I digress. The point of the sto­ry equates to a quote from Fer­ris Bueller: "Life moves pret­ty fast. If you don't stop and look around once in a while you could miss it."
Wel­come to 2007!