If you think you have a big ego, are nar­cis­sis­tic and/or arro­gant, then you will find your­self well out­gunned after watch­ing the doc­u­men­tary 'Overnight'.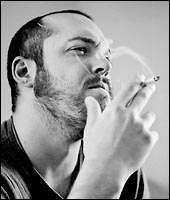 The DVD is a doc­u­men­tary about Troy Duffy who wrote the movie "The Boon­dock Saints", and his mete­orit­ic rise and fall. Sure it's pret­ty obvi­ous that the doc­u­men­tary mak­ers weren't his biggest fans (and you get to see why)… but it's so well worth watch­ing this school­yard bul­ly doing best what bul­lies do, know­ing that come­up­pance is only a mat­ter of time. Check it out.
Please Note: I liked the Tom Cruise ver­sion of the movie "War of the Worlds". So let that be a warn­ing about my movie rec­om­men­da­tions.