In case you didn't already know… I recent­ly adver­tised a Bert New­ton Rice Crack­er on eBay. At the time of writ­ing it has been bid up to $189.50. Now the excit­ing part is that if the Rice Crack­er actu­al­ly sold for that amount – it would fund the web host­ing of sketchy­crew for an entire year.
How­ev­er, I have my doubts about the legit­i­ma­cy of the bids, so I'm expect­ing to not even recoup my $6 list­ing fee. So why did I do it? Was it because I gen­uine­ly believe that the Rice Crack­er does in fact look like Bert New­ton? Or was it because I was able to place a link to sketchycrew.com on the list­ing and gen­er­ate some pub­lic­i­ty for the site? We may nev­er know.
The impor­tant thing is: I, and many oth­ers, have laughed our ass­es off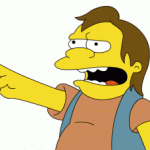 about the whole thing. $6 is pret­ty cheap when you think about it that way.
Even fun­nier, is that some­one has attempt­ed to jump on the band­wag­on with a can of coke that sup­pos­ed­ly also looks like Bert… but it's yet to receive a bid. Loser!