Being the unashamed petrol head that I am… I'm off to Squid­ney thi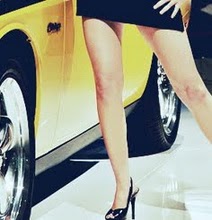 s week­end for the Aus­tralian Inter­na­tion­al Motor Show where I'm gonna feast my eyes on Fer­raris, Lam­bos, Beemers, Bent­leys, Mercs and Nis­sans… That's right, Nis­sans. I have a soft spot for Nis­sans… since I have owned at least 6 Nissan/Datsuns in my dri­ving biog­ra­phy – true story!
Yeah sure, if I was a true Aussie revhead I'd head to Bathurst this week­end but unfor­tu­nate­ly my body­guard is off-duty and I don't have the spare car to tow, trash, smash and burn (a con­di­tion of entry I have been told).