Just when you thought I couldn't be any nerdier or weird­er… I'm total­ly over­joyed to be cre­at­ing life. No fam­i­ly, I haven't got­ten any­one up the duff (well, not that I know of), let me explain. I've had pet fish on and off for many years (Siamese Fight­ers, Gouramis, I even have a pet prawn) and have induced the odd off­spring…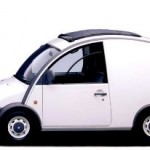 how­ev­er, late­ly I've start­ed breed­ing SNAILS! Scourge of the aquar­i­um con­nois­seur, fine food for the French, and inspi­ra­tion for the Nis­san S‑Cargo. These aren't your ordi­nary gar­den vari­ety of snail, these are 'Mys­tery Snails' or 'Apple Snails' as they're known in the US. These lit­tle suck­ers sell for up to $5 each in Can­ber­ra aquar­i­ums and I've got at least a freakin hun­dred of them! Feed them a piece of old car­rot every now and then and watch their lit­tle tur­bos kick in as they race each oth­er to the spoils.
I'm still wait­ing for the down­side to my lat­est hobby!