Kill Bill. Those two words usu­al­ly send a shiv­er down my spine when any ex-girl­friends come to town. Late­ly though, they've been get­ting me excit­ed as I was look­ing for­ward to the lat­est Taran­ti­no flick. I'm a big Pulp Fic­tion fan, although gra­tu­itous gore (like in the last half of Dusk til Dawn), have nev­er been a favourite with me, as I'm kin­da squeamish.
Well, wasn't I in for a shock when Kill Bill turned out to be a rol­lick­ing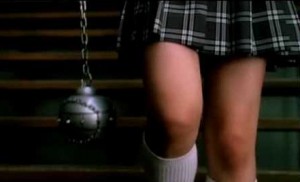 blood-bath of splat­ter, guts, decap­i­ta­tions and more gur­gling splatter.
In true Taran­ti­no style, the movie is as cool as movies get, and the funky cin­e­matog­ra­phy will put an evil grin on anyone's face.
As you've prob­a­bly read else­where, the crit­ics love this movie… but if you're like me and get dizzy from a paper-cut… steer clear, or take a barf-bag!
Hey, less than a week to go before all Matrix fans are final­ly put out of their mis­ery (if there is such a thing). Hope to see my brethren at Woden Cin­e­mas next Thurs­day at 10am.