A vast num­ber of acci­dents, wars, explo­sions, injuries and oth­er dis­as­ters prob­a­bly could have been avert­ed, if not for three lit­tle words:
"I dare ya!"
A per­fect exam­ple hap­pened at work the oth­er night, after 5pm, when everyone's moti­va­tion and con­cen­tra­tion lev­els had hit the 'over­tired and lack­ing in caf­feine' stage. Pic­ture an impromp­tu game of 'office crick­et' with a rub­ber ball and a rolled up news­pa­per… noth­ing too sin­is­ter about that. A few hard hits of the ball sent it fly­ing to var­i­ous part of the office, which made us all gig­gle and think about that Reflex Paper ad where the foot­ball hits the lady vis­it­ing the office in the head.
Any­way, my col­league decides to pick up an ultra heavy boxed roll of paper (seri­ous­ly, this thing ways about 10 kilos) and pre­tends to swing it like a bat. "You're too weak to swing that… Go on, I dare ya." I said know­ing­ly. As you can guess, no Aussie fel­la can back down from such a challenge…
The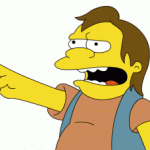 ball is thrown… every­thing goes silent… he takes a swing… and man­ages to smash his In-Tray and all it's con­tents across the room with an almighty crash… caus­ing peo­ple to come run­ning from all over the office to see the source of the kafuf­fle… and a very red-faced bats­man was lost for words as we all rolled around laughing.
Nev­er rely on Matty…