Who is Bill Bovill?
Bill Bovill is a lim­it­ed inde­pen­dent and severe­ly part-time robosapien.
This web­site forms part of his lega­cy to his many children.
It will be both a source of infor­ma­tion about their father, and pos­si­bly the source of some embar­rass­ment for them. Either, either.
It may also con­tain a series of clues to his iden­ti­ty, each more tit­il­lat­ing than the last.
Let us begin.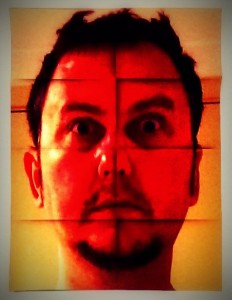 Known as Bovill 'O' Bill to some, Bill Bovill is alleged­ly the only non-sur­vey­or to know the mean­ing of the word "theodo­lite" and is famed for coin­ing the pop­u­lar par­ent­ing tech­nique known as "Get out­ta there."
A selec­tive mutist by trade, his abil­i­ty to inspire social awk­ward­ness has often been com­pared to that of Bri­an Badonde.
His achieve­ments are many and var­ied, includ­ing bury­ing a pony, tem­porar­i­ly attend­ing a Black and White Ball, get­ting caught in a rip, and being shak­en by the New­cas­tle Earth­quake. A huge fan of Carl Sagan, he spent his child­hood dream­ing of mak­ing a long dis­tance phone call.
A clos­et non-arachno­phobe, he has the unusu­al abil­i­ty to iden­ti­fy Fun­nel Web Spi­ders. A fan of the sheep­ish Les Kos­satz, his only regret in life is not tak­ing the oppor­tu­ni­ty to speak to Jack­ie O.
His cur­rent where­abouts and facial hair sta­tus are unknown, but he is rumoured to be work­ing on the musi­cal remake of "Con­dor­man".
Bill Bovil­l's cre­ative tal­ents can also be found push­ing out hit sin­gle after hit sin­gle on iTunes.